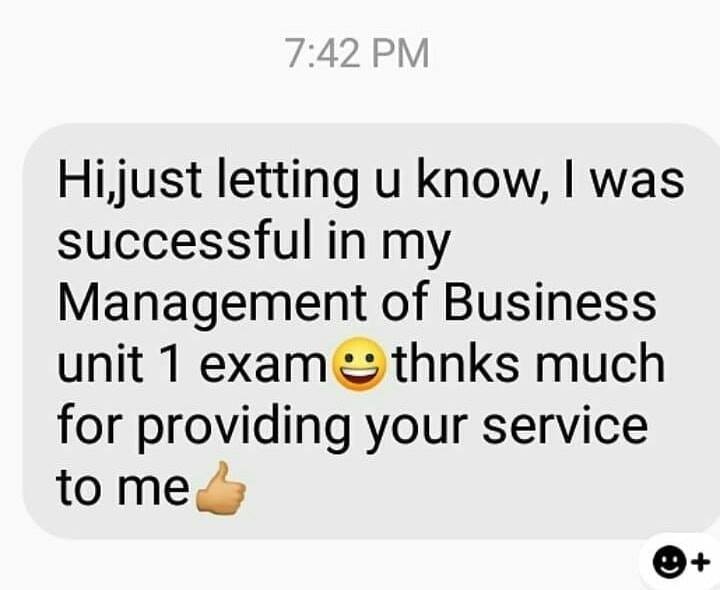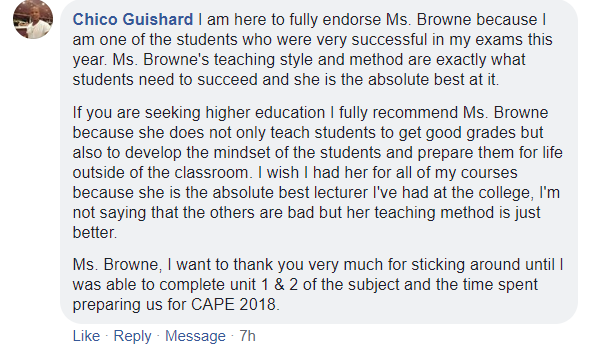 I had the privilege of purchasing the Business Study guide both unit 1 and 2 in my course of studying. The book is rather informative, and it gives direct information on topics of which would take hours to obtain when studying from the larger text books. it also provides examples step by step for the accounting section of the course also which was highly helpful for me as i always seem to struggle like some people in this section. Important key terms and knowledge are highlighted also in the guide which makes studying more organized and easier. This study guide was definitely worth my money and i obtained a good grade hence.
As a student of CFBC, where currently Ms. Browne teaches Management of Business, I must say that Ms. Browne is very competent in her field and well capable of delivering clear, comprehensive information to her class. As a result i strongly recommend her services.
Hashim
Satisfied Customer
I did Business Management courses with Ms. Browne last year and I must say I am very pleased! Under her tutelage, courses that would have taken me two years to complete, took me a little under one year to successfully complete. I highly recommend any of her courses- she's open to questions, she's honest, she knows what she's doing & she'll follow through to ensure you do well.
I took the entrepreneurship course with Tamu. This course focused on areas a potential entrepreneur needs to consider when deciding to take that step to provide a service or product to the market. Additionally you will leave the course will practical tools that financing institutions will request and that you will use to monitor the running of the business. Finally your leave the course inspired to take that bold step.
Unoma Allen
Satisfied Customer
I tutor with Ms. Browne and she is detailed and knowledgeable and always brings enriching content.
Ms. Browne is simply the best! She is knowledgeable about anything she presents. I did online business courses and attended a workshop(envision your future) one summer, and both were awesome. I dont regret signing up for either one. I learned a lot from both, and the study guide and notes (for online business course) was so very easy to understand and made a lot of sense to me for someone who never did a business or accounting subject! During the workshop we were not only taught book sense, but COMMON SENSE, to be EXTRAORDINARY persons and we were encouraged to pursue our dreams! If you need a tutor, a teacher, a lecturer, online courses, business, technology, management, CHECK MS.BROWNE! She is simply the best, and great at what she does. My name is Miss Webbe, and I approve this message 🙂 Ms Browne is Simply the Best!
Miss Webbe
Inspired Students