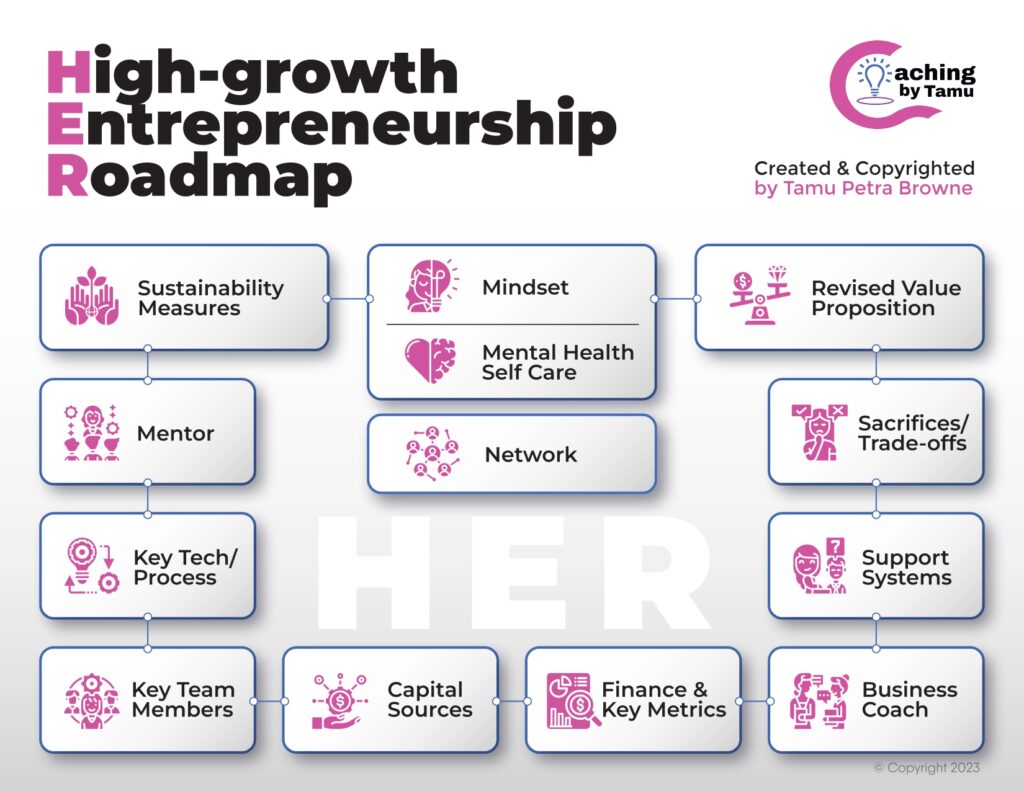 Welcome to HER: High-Growth Entrepreneurship Roadmap
---
Purchase the High Growth Entrepreneurship Virtual Webinar
---
Unlock Your Potential and Thrive as a Female Entrepreneur
Are you a driven and ambitious female entrepreneur looking to take your business to new heights? Introducing HER: High-Growth Entrepreneurship Roadmap, a revolutionary business model tailored specifically for women entrepreneurs like you. Created by renowned entrepreneurship coach and trainer, Dr. Tamu Petra Browne, this cutting-edge roadmap is designed to address the unique challenges and aspirations faced by women in business.
Dr. Tamu Petra Browne has worked tirelessly with hundreds of female entrepreneurs in the Caribbean region and beyond, gaining invaluable insights into the hurdles they face on their entrepreneurial journey. Through her extensive experience, she recognized that existing business models fail to align with the realities of women entrepreneurs, leaving them underserved and lacking the guidance necessary to thrive.
HER: High-Growth Entrepreneurship Roadmap is here to bridge that gap and provide you with the tools and strategies needed to navigate the path to success. This comprehensive roadmap encompasses every stage of your entrepreneurial journey, going beyond mere survival and general growth. It empowers you to unleash your full potential, conquer challenges, and achieve remarkable results.
What Makes HER: High-Growth Entrepreneurship Roadmap Different?
1. Tailored for Women Entrepreneurs: Unlike generic business models, HER acknowledges and embraces the unique strengths and perspectives of female entrepreneurs. It leverages your inherent abilities, allowing you to harness your talents to their fullest potential.
2. A Focus on High-Growth Entrepreneurship: HER is specifically designed for ambitious women entrepreneurs who aspire to scale their businesses rapidly and achieve extraordinary growth. It provides you with the roadmap and strategies to unlock high-growth opportunities in today's competitive market.
3. Insights Backed by Real-World Experience: Dr. Tamu Petra Browne's work with female entrepreneurs has given her firsthand knowledge of the challenges and roadblocks they face. HER distills this expertise into actionable steps, ensuring you receive practical advice that has been proven to work.
4. Holistic Approach to Success: HER: High-Growth Entrepreneurship Roadmap recognizes that your entrepreneurial journey is not limited to business alone. It takes into account the broader aspects of your life, including personal growth, work-life balance, and well-being. By nurturing these areas, HER helps you create a sustainable and fulfilling entrepreneurial lifestyle.
Discover the Power of HER: High-Growth Entrepreneurship Roadmap
Coming Soon. The HER community,where you gain access to a wealth of resources, including:
– Step-by-step guidance through each stage of your entrepreneurial journey.
– Proven strategies for rapid growth and scaling your business.
– Tailored advice to overcome the unique challenges faced by women entrepreneurs.
– Support from a vibrant community of like-minded female entrepreneurs.
– Exclusive webinars, workshops, and networking opportunities.
– Tools to enhance your personal and professional development.
Don't let the limitations of existing business models hold you back. Embrace HER: High-Growth Entrepreneurship Roadmap and unlock your true potential as a female entrepreneur. Take the first step toward extraordinary growth and join our community today!
Contact us now to learn more about HER: High-Growth Entrepreneurship Roadmap and how it can transform your entrepreneurial journey. Together, let's rewrite the rules and pave the way for female entrepreneurs to thrive in the high-growth landscape.