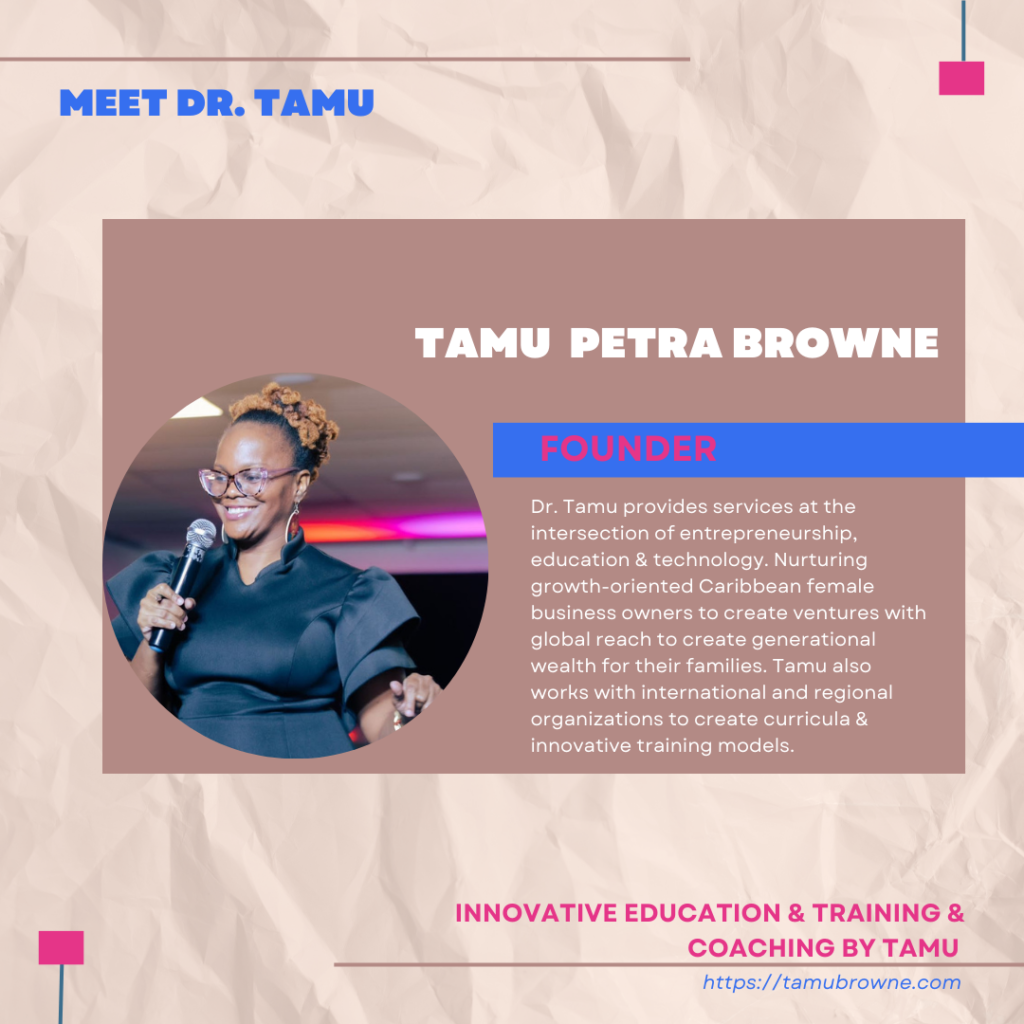 ---
Introducing the Level up Ladies Accelerator, the game-changing 6-month online program that will transform your business into a revenue powerhouse and set the groundwork for global reach. This comprehensive program is designed to help ambitious female entrepreneurs like you to create export-ready services and products, double your income, and achieve unprecedented success.
Are you tired of feeling stuck in your business, not sure where to focus your efforts to grow and succeed? The virtual accelerator program designed by renowned female venture expert, Dr. Tamu.You'll learn the fundamental pillars of business strategy, branding, customer insight, and processes and systems. The program is grounded in Dr. Tamu's copyrighted High- Growth Entrepreneurship Roadmap Business Model designed specifically for women.
Our accelerator has already seen three cohorts of women who have participated and every one of them has more than doubled their revenue and 10x'd their investment in the program. This is a testament to the effectiveness of our program and the proven results that our participants have achieved.
With Level up Ladies Accelerator, you'll gain access to expert business coaching, personalized mentorship, and a network of like-minded entrepreneurs. We'll help you develop your unique brand identity, create a solid business plan, and expand your customer base beyond your local market. View the 2024 curriculum.
Email us at inn[email protected] to inquire about Level up Ladies OR Apply Here
But that's not all. Our program is available for licensing and can be adapted for face-to-face delivery, making it a flexible solution for entrepreneurs and organizations alike. If you're an Entrepreneurship Ecosystem partner who champions female entrepreneurship, this program is the perfect fit for you. Partnering with us will allow you to empower and equip female entrepreneurs with the tools and knowledge they need to succeed in today's competitive marketplace.
---
The Elite Transformational Trainer is a four-month virtual masterclass coaching program for women who are already experts in their fields in other industries (coaches, consultants, beauty practitioners, formulators, educators) who wish to become elite trainers in their zone of genius who are handsomely paid.
Application for the Elite Transformational Trainer Online Masterclass 2024 is now open.
---
Elite Transformational Trainer Graduate Testimonial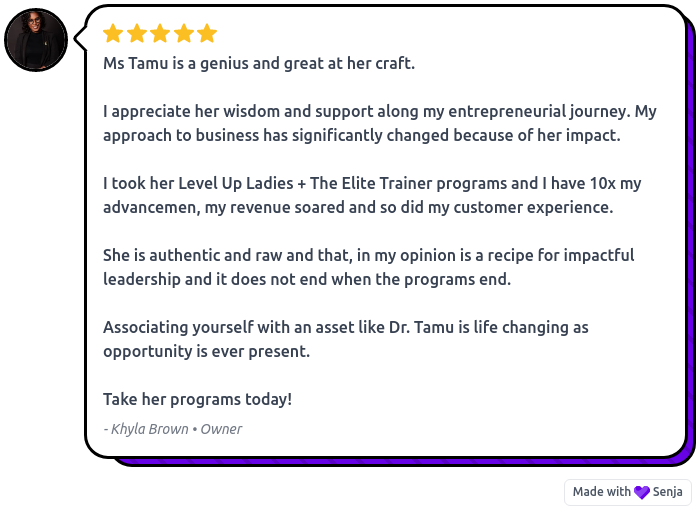 ---
---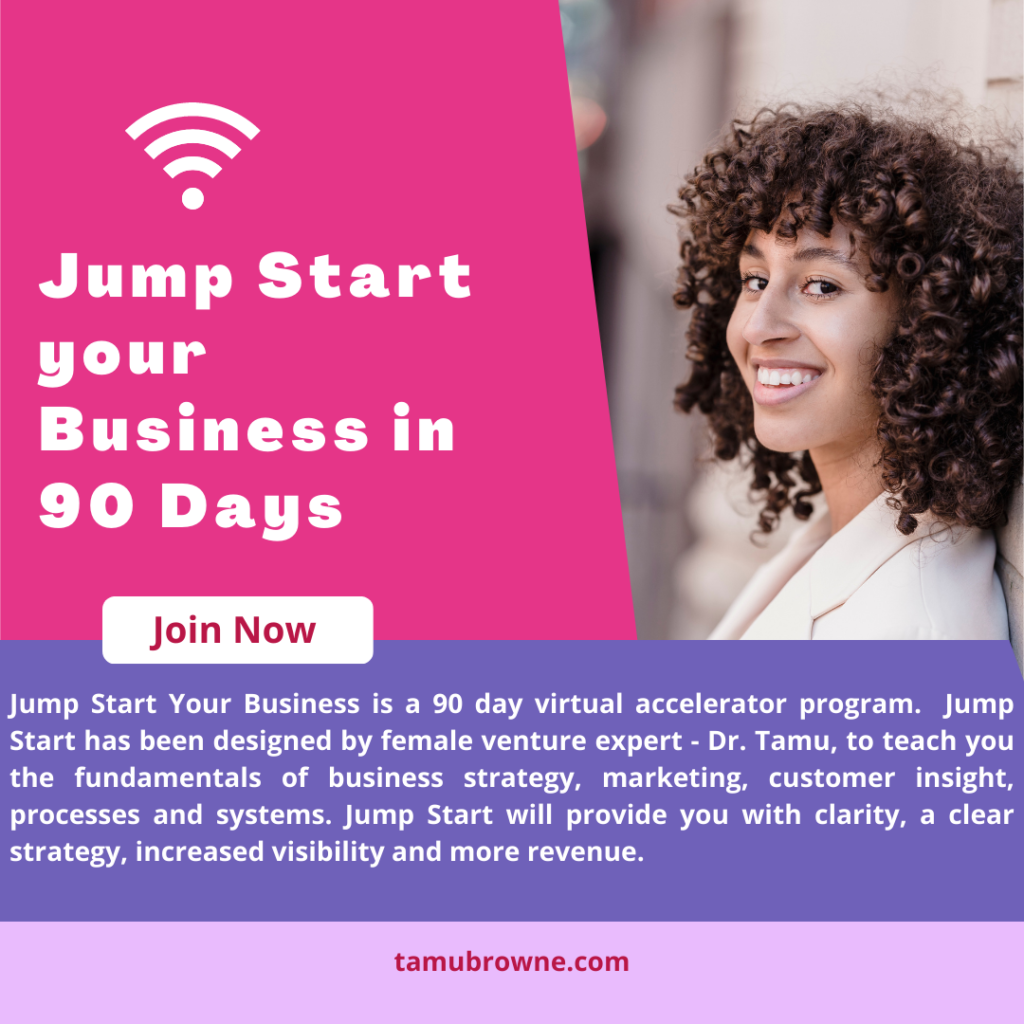 Dr. Tamu has specifically tailored this program to provide entrepreneurs with the clarity and strategy you need to take your business to the next level. And the best part? Jump Start will increase your visibility and revenue, allowing you to see real results in just 90 days.
The benefits don't end there. We're excited to announce that Jump Start is now available for licensing and customization by entrepreneurship ecosystem entities including Business Support Organizations and NGOs. This means that you can bring the power of Jump Start to your entire community, helping more businesses thrive and succeed in the ever-changing landscape of entrepreneurship. Don't let your business fall behind. Inquire about the Jump Start Your Business program today and start accelerating your success!
Email us at [email protected]
---