Your Entrepreneurship Journey
Welcome to EmpowerHerHub: Your Gateway to Success!
Are you a trailblazing female entrepreneur ready to elevate your business to new heights? Look no further – EmpowerHerHub is your ultimate destination for empowerment, growth, and success!
Embark on Your Entrepreneurial Journey with Confidence
At EmpowerHerHub, we believe in empowering female visionaries like you. Whether you're just starting or aiming to scale, our curated collection of resources provides the fuel to ignite your entrepreneurial spirit. From insightful blog posts, course, webinars to exclusive e-books, we've got the tools you need to elevate to high growth entrepreneurship.
---
---
Idea to Implementation
Are you an aspiring entrepreneur with a burning idea? Welcome to the game-changing "Idea to Implementation in 3 Weeks" audio course – your compass to navigate the exhilarating path of entrepreneurship. This online masterpiece isn't just a course; it's your personalized roadmap to success. With 15 immersive classes and a treasure trove of over ten worksheets and resources, this course is designed to be the catalyst that transforms your ideas into thriving businesses. Whether you're launching from scratch or redefining your current venture, our meticulously crafted content ensures a systematic and empowering journey. The beauty lies in your pace – work through the series as quickly or as thoughtfully as you need. Your entrepreneurial dreams are within reach, and this course is your key to unlocking them. Let's embark on this transformative journey together – because your idea deserves to be more than a thought; it deserves to be a reality.
---
Coaching by Tamu FREE Customer Insight Checklist
Customer insight is the invaluable understanding gained by delving into the minds of your target audience. It's the secret sauce that transforms a good business into an extraordinary one. Imagine knowing exactly what your customers want, need, and desire. That's the magic of customer insight – a strategic tool that illuminates the path to success. You will need this as part of your entrepreneurship journey, especially as you move from idea to implementation or as part of the business model process.
---
Download your FREE Customer Insight Checklist below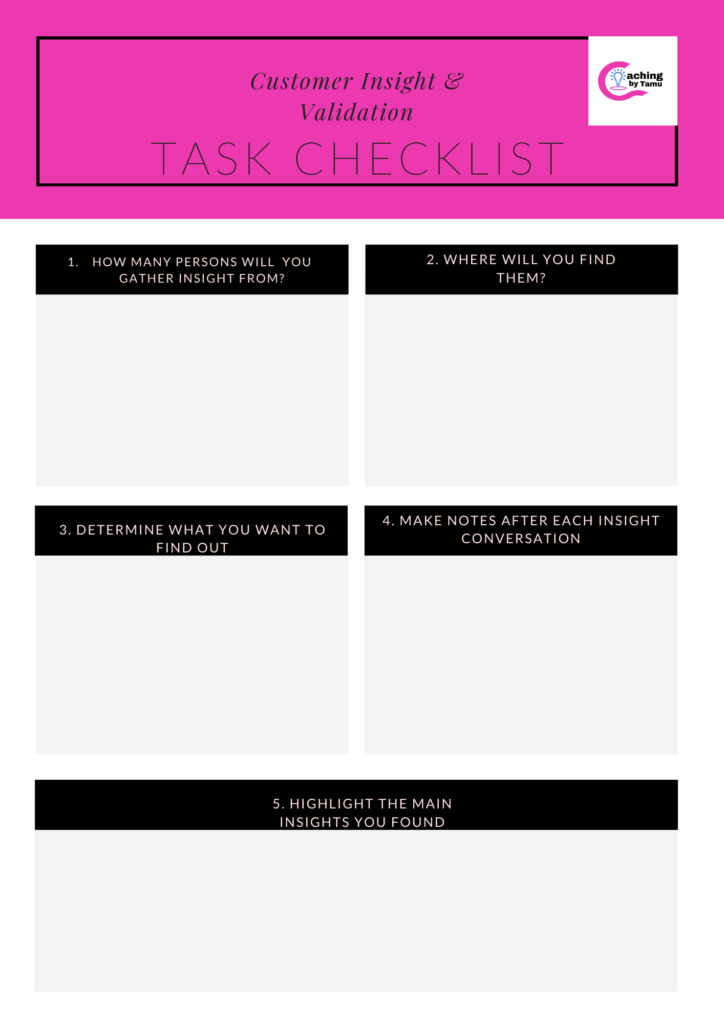 ---
"Mastering the One-Page Business Plan and Business Model Canvas" Webinar Recording!
Are you ready to transform your business idea into a tangible, actionable plan? Look no further – our exclusive webinar recording is your key to unlocking the secrets of the one-page business plan and business model canvas, propelling your venture toward success.
What to Expect:
In this power-packed recording, our expert presenter demystifies the art of crafting a concise yet comprehensive one-page business plan and seamlessly integrating it with the dynamic business model canvas. Learn the art of distilling your vision, mission, and strategy onto a single page, providing you with a crystal-clear roadmap for your entrepreneurial journey.
Why It Matters:
A solid foundation is the bedrock of any successful venture. This webinar recording empowers you with the tools to define your business objectives, target audience, revenue streams, and key activities, all condensed into a strategic one-page document. The business model canvas serves as your visual playbook, ensuring you have a holistic view of your business landscape.
Key Takeaways:
Simplicity and Clarity: Condense your business strategy into a single, clear document.
Strategic Alignment: Align your goals and activities seamlessly for maximum impact.
Actionable Insights: Uncover the essential elements of a robust business model.
Your Entrepreneurial Future Starts Here:
Invest in the success of your venture by gaining access to this invaluable resource. The webinar recording is not just a tutorial; it's your mentor, guiding you through the intricacies of strategic planning. Take the next step in your entrepreneurial journey – purchase the recording now and lay the foundation for a thriving business!
---
---
Elevate Your Entrepreneurial Journey with the Coaching by Tamu Business Growth Planner: Your Companion to Success!
Calling all visionary female entrepreneurs! Transform your creative ideas into a thriving business with the Coaching by Tamu Business Growth Planner – not just a planner, but your strategic ally in the journey to success.
Tailored for Women Entrepreneurs:
Designed with the unique needs of women entrepreneurs in mind, this planner goes beyond the ordinary. Whether you're launching a startup, growing an online business, or setting ambitious goals, this planner is your secret weapon for success.
Unlock the Power of Organization:
Tired of juggling countless ideas and struggling to bring order to the chaos of entrepreneurship? The Coaching by Tamu Business Growth Planner is your oasis of organization, offering 138 pages of purpose-built tools. Capture your ideas, track milestones, and create a roadmap for success.
A Haven for Creativity and Planning:
Immerse yourself in the specially crafted organizers, including intuitive tools like the Intuition Journal and the Gratitude Journal. Plan your projects, outline your goals, and dive into the abundance of resources within the planner. It's more than just a planner; it's a celebration of your creativity and business prowess.
What's Inside:
Sales Goals Organizers
Monthly and Yearly Calendars (undated for anytime use)
Yearly Planners
Project Planners
General Goal Planners
Monthly Intentions
Priority Planners
Abundance and Reflection Journal
Income and Expense Organizers
Notebook Pages
Year Overview
Your Business Growth Starts Here:
Invest in yourself and your business with the Coaching by Tamu Business Growth Planner. Don't just plan; plan with purpose, style, and the empowerment that comes from a planner designed specifically for women entrepreneurs. Purchase your planner now and let your ideas blossom into the success story you've always envisioned
---
Download the Grant Readiness Checklist Now!
Securing grant funding can be a game-changer for your business, but the path to success starts with being grant-ready. Grants are not just about filling out forms; they require strategic planning, meticulous preparation, and a deep understanding of what funders are looking for. The Grant Readiness Checklist is your compass, designed by Dr. Tamu, a seasoned entrepreneurship expert in the field, to ensure you're not just applying but winning those grants for your business growth.
Grant readiness checklists are also available for a license fee for trainers to utilize in their sessions. Click here to purchase
---
High Growth Entrepreneurship Roadmap Webinar
View our live recording.
Attention all ambitious women entrepreneurs! Are you ready to take your business to new heights? Discover the proven strategies and insider knowledge you need to fuel your growth at our exclusive online workshop – Understanding the High Growth Entrepreneurship Roadmap.
Picture this: Your business soaring to unprecedented heights, achieving remarkable success, and leaving your competitors in awe. It's not just a dream—it's an attainable reality with the right roadmap. Created by the renowned entrepreneurship coach and trainer, Dr. Tamu Petra Browne, this transformative workshop is designed to equip you with the essential tools and strategies to navigate the challenging terrain of high growth entrepreneurship.
---
Book a Coaching Call with Dr. Tamu
---
---
Coaching by Tamu Podcast Episodes
New Season Coming in 2024. Click the Spotify Icon to view all episodes.