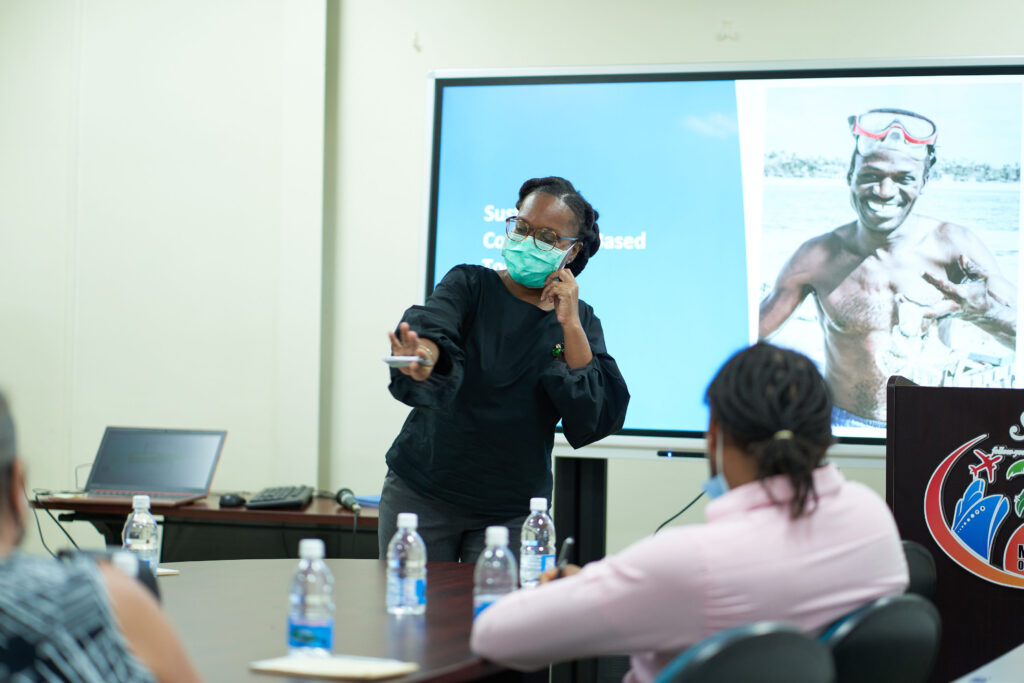 Employers are experimenting with various training modes in an attempt to optimize the training experience in a COVID era. Many companies have moved to geographically distributed teams. However, many companies have been experimenting with a hybrid model, with some employees on-site physically while others remain remote. The move to a hybrid workforce has presented opportunities for hybrid training models.
What is Hybrid Training?
Hybrid training is training employees in two spaces – the physical space and the remote space, simultaneously. So some employees are engaging with your training in person, while some are joining from their devices. The trainer can be in either of those spaces – virtual or with the physical team. During COVID in 2021, with the COVID numbers near zero in St. Kitts and Nevis, I conducted hybrid training for the IT team of an international company. The majority of employees joined me physically in an open air space, while four employees joined from different locations in the Caribbean remotely. It was my first hybrid training outside of an education setting. I immensely enjoyed it, and coupled with my education hybrid training experiences, I have learned some best practices, five of which I offer to you below.
1. Become technically competent
If you are not tech-savvy, then a hybrid training engagement will be challenging for you. I am not speaking about navigating expertly through social media. I am talking about navigating software setup and hardware operation. There are a lot of moving parts with hybrid training. The sound, the camera for remote participants to view and hear you, and maybe a second screen where you can view the remote participants. There is no guarantee that a technical person will remain with you on-site throughout the entire hybrid training engagement. Hence you have to know how to work the hardware and software components and have a contingency option such as your own PRO Zoom setup for remote participants.
2. Understand the nature of support
I mentioned above the complexity of a hybrid training engagement and the need for technical competence. However, technical competence is not innate, and it may be something you have to cultivate over time. Even if you are a technical wizard, troubleshooting hardware or software issues detracts from the facilitation and learning experience. So a best practice is not to assume technical support but to request it. If that support is unavailable to you for the entire duration of a hybrid training engagement, you need to build in the cost to hire someone to support you, particularly if it is a multi-day training.
3. Revisit your instructional design for hybrid training
If you intend to recycle training that you previously delivered to a fully face-to-face audience or an entirely virtual one for a hybrid training session – do not! I am an educator, so my pedagogical training is sound. The instructional design for a hybrid training model is different. Every activity, interaction, and evaluation must be designed with both audiences in mind while ensuring it seems seamless and the experience does not leave one group feeling disadvantaged.

The learning outcomes must be met equally for both groups. Also, please do not assume that your face-to-face group will have access to devices, nor assume that it is desirable. Hybrid training requires that you reach deep into your instructional design bag and pull out your most effective tactics based on the context. For instance, I provided accomplishment badges for the winning team members in an experiential activity I designed. I provided physical badges to the face-to-face group, and the remote team members received virtual badges in real-time.
4. Engage the remote learners in hybrid training
You should avoid only speaking to those in the room. It is tempting and natural to direct your gaze and questions to those in front of you. Instead, have the remote members also introduce themselves as the rest of the participants have done. If there are no introductions but you are using nametags, have the remote members rename their zoom with their first names. You need to know their names, have them engaged by asking them questions, and pausing for their input. Keep an eye on the remote screen if you do not have technical support for raised hands. Do not stand in front of the camera and know the appropriate distance from the camera, so the remote participants see your entire body or upper torso at all times. Keep an eye on that camera.
5. Reconsider your billing
You may need to charge more for hybrid training engagements. Hybrid training will require more creativity and ideation as the instructional design is more complex. Often you may need to create digitally aligned resources in addition to the physical ones. You may need to hire support, as mentioned above. More time and resources are put into multi-mode training engagements, and you have to be compensated for that. So do create a billing structure for these types of engagements.
Conclusion
The world is changing, and you have to change with it. I am a human capacity developer, and how I engage in this work is also shifting. However, it is not just about tech but more about creativity and innovation as we strive to meet with excellence the new demands of the new normal. I am available for hybrid training and online engagements and the creation of curricula optimized for online delivery among other services. You can contact me at innovativeeducation [at] tamubrowne [dot] com.