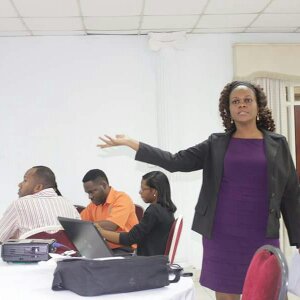 Oh my goodness. I know it has been quite some time since I last blogged but I have been busy!!! I serve as the Convenor for the new Animation and Game Design Syllabus being offered by CXC which some schools will debut in September. I have been traveling the region – Jamaica, Barbados, and Antigua specifically orienting teacher on how to teach this new and exciting subject.
The syllabus is demanding so I am offering for the summer a short course to teach you how to make your first animation.

This is perfect for:
educators who desire more knowledge before venturing to teach the subject in its entirety
teens and preteens who would love to dip into an introductory course before deciding if a full two year program in animation and game design is an appropriate choice
any learner young or old with an interest in animation.
The course will be launched online in mid July and delivered via video lessons which allow you to learn at your own pace and pause , rewind and replay as many times as you wish. The major topics to be covered  in The make your First Short Animation Course include:
Fundamentals of Character Design and Colour Theory
Using Inkscape to design characters
Pre-production tasks including storyboarding
Using Blender to animate
Editing and revising your animations
Publishing your animations
You can pre-register for the course and further details including the cost will be emailed to you as we get closer to our launch date in July. You can pre-register below. You will receive a 5% discount for pre-registering prior to the launch. 
[contact-form][contact-field label='Name' type='name' required='1'/][contact-field label='Email' type='email' required='1'/][contact-field label='Website' type='url'/][contact-field label='Message' type='textarea'/][/contact-form]
Early Bird specials
Discounts on future classes
Emails with all the details on this and other offerings as one of our VIP customers
You can always opt out of taking the course but you will continue to receive all the perks for being on our VIP client list. Pre-register to lock in your 5% discount by filling the form below:
[contact-form][contact-field label='Name' type='name' required='1'/][contact-field label='Email' type='email' required='1'/][contact-field label='Website' type='url'/][contact-field label='Message' type='textarea'/][/contact-form]